Nietzsche, the Aristocratic Rebel: Intellectual Biography and Critical Balance-Sheet (Historical Materialism Book #200) (Hardcover)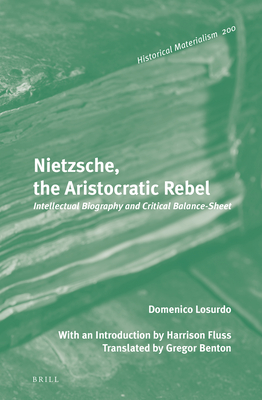 $448.00
Special Order - Subject to Availability
Description
---
Perhaps no philosopher is more of a conundrum than Nietzsche, the solitary rebel, poet, wayfarer, anti-revolutionary Aufkl rer and theorist of aristocratic radicalism. His accusers identify in his 'superman' the origins of Nazism, and thus issue an irrevocable condemnation; his defenders pursue a hermeneutics of innocence founded ultimately in allegory. In a work that constitutes the most important contribution to Nietzschean studies in recent decades, Domenico Losurdo instead pursues a less reductive strategy. Taking literally the ruthless implications of Nietzsche's anti-democratic thinking - his celebration of slavery, of war and colonial expansion, and eugenics - he nevertheless refuses to treat these from the perspective of the mid-twentieth century. In doing so, he restores Nietzsche's works to their complex nineteenth-century context, and presents a more compelling account of the importance of Nietzsche as philosopher than can be expected from his many contemporary apologists.

Translated by Gregor Benton. With an Introduction by Harrison Fluss.


Originally published in Italian by Bollati Boringhieri Editore as Domenico Losurdo, Nietzsche, il ribelle aristocratico: Biografia intellettuale e bilancio critico, Turin, 2002.
About the Author
---
Domenico Losurdo (14 November 1941 - 28 June 2018) was an Italian Marxist philosopher and historian. He was a Professor of History of Philosophy at the University of Urbino and one of the world's leading Hegel scholars and an expert on 19th and 20th-century intellectual history. He has produced a large body of scholarly work that aims at an analysis of European, and particularly German, philosophy and political thought, taking in Kant, Hegel, Marx, Nietzsche, Heidegger and, appropriately, Gramsci, as well as Bonapartism, Italian Neo-Hegelianism and historical revisionism. He also exemplifies the cultural gap that still persists between the theoretical cultures of continental Europe and the Anglo-American world. While strongly influencing Italian academia with over twenty monographs, only two of them have made it to an English translation so far. These two studies--Heidegger and the Ideology of War: Community, Death, and the West (2001; Italian edition 1991) and Hegel and the Freedom of Moderns (2004; Italian edition 1992)--have become fundamental reference works.