Neoliberalism's War on Higher Education (Hardcover)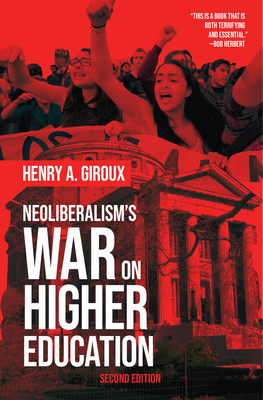 $50.00
Not in Stock... Available to ship in 3-5 days​
Description
---
Giroux exposes the corporate forces at play and charts a clear-minded and inspired course of action out of the shadows of market-driven education policy. Championing the youth around the globe who have dared to resist the bartering of their future, he calls upon public intellectuals--as well as all people concerned about the future of democracy--to speak out and defend the university as a site of critical learning and democratic promise.
In this updated edition, Giroux puts all of this into the context of the Trump era, arguing that education remains a key battleground for the fight against authoritarianism.
About the Author
---
Henry A. Giroux currently holds the McMaster University Chair for Scholarship in the Public Interest in the English and Cultural Studies Department and is the Paulo Freire Distinguished Scholar in Critical Pedagogy. In 2002, he was named as one of the top fifty educational thinkers of the modern period in Fifty Modern Thinkers on Education: From Piaget to the Present as part of Routledge's Key Guides Publication Series. In 2007, he was named by the Toronto Star as one of the "12 Canadians Changing the Way We Think. "His most recent books include: Neoliberalism's War on Higher Education (Haymarket 2014), The Violence of Organized Forgetting (City Lights 2014), Dangerous Thinking in the Age of the New Authoritarianism (Routledge, 2015), America's Addiction to Terrorism (Monthly Review Press, 2016), America at War with Itself (City Lights, 2017), The Public in Peril (Routledge, 2018), American Nightmare: Facing the Challenge of Fascism (City Lights, 2018), and his forthcoming, The Terror of the Unforeseen (Los Angeles Review of books, in press). Giroux is also a member of Truthout's Board of Directors. His web site is .henryagiroux.com.