As Radical as Reality Itself: Marxism and Tradition (Paperback)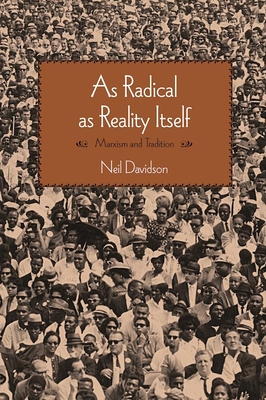 Description
---
Praise for How Revolutionary Were the Bourgeois Revolutions?
"I was frankly pole-axed by this magnificent book. Davidson resets the entire debate on the character of revolutions: bourgeois, democratic, and socialist. He's sending me, at least, back to the library."--Mike Davis, author of Planet of Slums
In this book of essays Neil Davidson examines Marxism's relationship to previously existing traditions (the Enlightenment), as well as the precise boundaries of the Marxist tradition itself. With characteristic clarity and insight, he argues that tradition should not be seen as a set of eternally valid "lessons," but rather as a set of resources from which revolutionaries can critically draw.
About the Author
---
Neil Davidson currently lectures in Sociology with the School of Social and Political Science at the University of Glasgow. He is the author of The Origins of Scottish Nationhood (2000), Discovering the Scottish Revolution (2003), for which he was awarded the Deutscher Memorial Prize, How Revolutionary Were the Bourgeois Revolutions? (2012), Holding Fast to an Image of the Past (2014) and We Cannot Escape History (2015). Davidson is on the editorial boards of rs21 and the Scottish Left Project website. He is a member of the Radical Independence Campaign.