People Wasn't Made to Burn: A True Story of Race, Murder, and Justice in Chicago (Hardcover)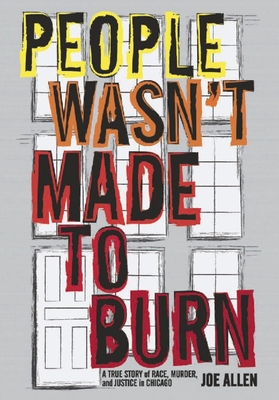 Email or call for price.
Out of Print - Not Available
Description
---
In 1947, James Hickman shot and killed the landlord he believed was responsible for a tragic fire that took the lives of four of his children on Chicago's West Side. But a vibrant defense campaign, exposing the working poverty and racism that led to his crime, helped win Hickman's freedom. With a true-crime writer's eye for suspense and a historian's depth of knowledge, Joe Allen unearths the
compelling story of a campaign that stood up to Jim Crow well before the modern civil rights movement had even begun. As deteriorating housing conditions and an accelerating foreclosure crisis combine to form a hauntingly similar set of circumstances to those that led to the Hickman case, Allen's book restores to prominence a previously unknown story with profound relevance today.
About the Author
---
Joe Allen is a frequent contributor to the International Socialist Review and a long-standing social justice fighter, involved in the ongoing struggles for labor, abolition of the death penalty, and against the Iraq war.
Praise For…
---
What I appreciate about Joe Allen's work is that he demonstrates as a historianthe power of informationmeticulous, distilled, coherent, principled."
John Pilger, author of Freedom Next Time

In a remarkable feat of historical excavation and taut storytelling, Joe Allen tells the incredible story of James Hickman, an African-American man who struck back after a black Chicago slumlord and arsonist decimated his family and nearly destroyed his life. A stark look into a past of big city racism and poverty that we shouldn't forgetand an important contribution to the history of social justice in America."
Alex Heard, author of The Eyes of Willie McGee

James Hickman was one of the hundreds of thousands of black Mississippians to move to Chicago in the 1940s. The nightmarish tragedy that befell the Hickman family there, as well as the actions of the dedicated activists who fought to save Hickman's life by revealing the institutional foundations of that tragedy, are vividly depicted in Joe Allen's important and moving history. Hickman's story illustrates the toxic nature of racial segregation and economic exploitation. The outraged community that united to support Hickman is a refreshing reminder of people's power to organize for change."
Beryl Satter, author of Family Properties: Race, Real Estate, and the Exploitation of Black Urban America

"[A] remarkable book... Allen tells the story in admirably straightforward fashion...[painting] a horrific portrait of the inhumane conditions in which blacks were forced to live in the post WWII Chicago." Rick Kogan, Chicago Tribune


People Wasn't Made to Burn presents the 1947 Hickman trial in Chicago and its revelations as a metaphor for racial prejudice and its effects on the lives of ordinary people. The book's story tells of James Hickman's frustration over his inability to get justice in the arson death of his four children, his subsequent killing of the landlord who was deliberately responsible for the fire, and the efforts of the heroic and conscience-arousing Hickman Defense Committee that enabled him to walk out of court a free man."
Kenan Heise, author of Chicago Afternoons With Leon