Semiosis (Hardcover)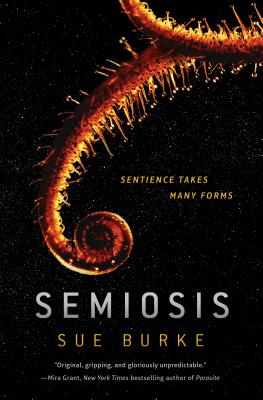 Staff Reviews
---
A new-ish sub-genre has reared its head as of late - a sort of off-shoot of science fiction/fantasy with an ecological focus. This book grapples with this sub-genre in such a unique and startling way. Sue Burke's debut brings an unexpected storytelling format - one that runs through several generations of a human colony starting anew on a foreign planet. How would one interact with the flora and fauna if the rules are different? Despite familairity, nothing acts or interacts the way earthlings would expect. Learning to survive WITH the planet instead of ON a planet makes for a fascinating experiment in science and in fiction. I thoroughly enjoyed this book and found myself dreaming of the conversations I might have if we could also talk to the trees. 
— Rebecca George
Description
---
Human survival hinges on an bizarre alliance in Semiosis, a character driven science fiction novel of first contact by debut author Sue Burke.
Thrillist--Best Books of 2018 (So Far)
Chicago Review of Books--Best New Books of February
SyFy Wire--9 Sci-Fi and Fantasy Novels to Read in February
The Verge--18 Science Fiction and Fantasy Books to Read in February
Unbound Worlds--Best Sci-Fi and Fantasy Books of February 2018
Kirkus--The Best Science Fiction & Fantasy Books to Read in February
Colonists from Earth wanted the perfect home, but they'll have to survive on the one they found. They don't realize another life form watches...and waits...
Only mutual communication can forge an alliance with the planet's sentient species and prove that humans are more than tools.
About the Author
---
SUE BURKE has worked as a reporter and editor for a variety of newspapers and magazines, and Semiosis is her debut novel. She is a Clarion workshop alumnus and has published over thirty short stories. Burke also worked extensively as a literary translator, and while living in Madrid, Spain, she headed the long-running Madrid Writer's Critique Group. She now lives in Chicago.