Ecstatic Cahoots: Fifty Short Stories (Paperback)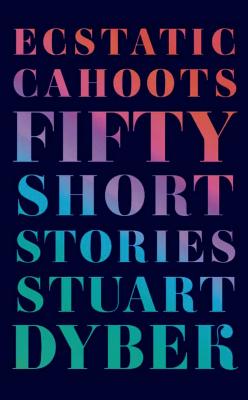 Staff Reviews
---
This book is filled with romance and a love for Chicago that is woven through each story. For those who enjoy magical yet realistic glimpses of our world and the human condition, read this.
— Rivka
Description
---
In this remarkable collection of bite-size stories, Stuart Dybek, one of our most prodigious writers, explores the human appetite for rapture and for trust. With fervent intensity and sly wit, he gives each tale his signature mix of characters—some almost ghostly, others vividly real—who live in worlds tinged with surreal potential. There are crazed nuns hijacking streetcars, eerie adventures across frozen ponds, and a boy who is visited by a miniature bride and groom every night in his uncle's doomsday compound. Whether they are about a simple transaction, a brave inquiry, a difficult negotiation, or shared bliss, the stories in Ecstatic Cahoots target the friction between our need for ecstatic self-transcendence and our passionate longing for trust between lovers, friends, family, and even strangers.
Call it micro-fiction or mini-fiction, flash fiction or short shorts. Whatever the label, the marvelous encounters here are marked by puzzlement, anguish, and conspiratorial high spirits. In this thrilling collection, Stuart Dybek has once again re-envisioned the possibilities of fiction, creating myriad human situations that fold endlessly upon each other, his crackling prose drawing out the strange, the intimate, and the mysterious elements in each.
About the Author
---
Stuart Dybek is the author of five books of fiction--Ecstatic Cahoots, Paper Lantern, I Sailed with Magellan, The Coast of Chicago, and Childhood and Other Neighborhoods--as well as two collections of poetry, Brass Knuckles and Streets in Their Own Ink. Dybek is the recipient of many prizes and awards, including the PEN/Malamud Award, an Arts and Letters Award from the American Academy of Arts and Letters, a Whiting Writers' Award, four O. Henry Awards, a MacArthur Fellowship, and a Guggenheim Fellowship. He is distinguished writer-in-residence at Northwestern University.
Praise For…
---
"[Dybek's] two new collections establish him as not only our most relevant writer, but maybe our best. . . . Each season, the Powers That Be take a book, any book, possibly at random and proclaim it the Biggie, The Obligatory Best Seller. Could it be Ecstatic Cahoots . . . Here's hoping." —Darin Strauss, New York Times Book Review
"The excellent Stuart Dybek continues to challenge and dazzle. These modern-day palm-of-the-hand stories will do much to keep this exciting form alive." —Amy Hempel, author of The Dog of the Marriage
"Ecstatic Cahoots and Paper Lantern confirm Dybek as a virtuoso of the short story--a nimble, compassionate writer who uses precise, lucid, original descriptions. He shows us all we need to know and nothing more." —Valerie Milner, The San Francisco Chronicle
"Masterful . . . Like Proust, Dybek has a deserved reputation as a superb cartographer of memory." —Trevor Quirk, The Los Angeles Review of Books
"A superlative collection . . . [Dybek's] stories are sharply self-aware, full of references, and yet they never feel contrived. Rather, they evoke a wistful yearning, in which the act of telling can do only so much." —David Ulin, Los Angeles Times
"Dream and memory, humor and pathos, song and silence: At his best Dybek combines these disparate elements in a shimmering web." —Philip Connors, Newsday
"[Stuart Dybek is] a magician comparable to Eudora Welty and Joy Williams." —Joseph Coates, Chicago Tribune