Two Menus (Phoenix Poets) (Hardcover)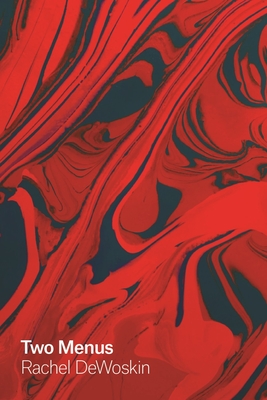 Description
---
There are two menus in a Beijing restaurant, Rachel DeWoskin writes in the title poem, "the first of excess, / second, scarcity." DeWoskin invites us into moments shaped by dualities, into spaces bordered by the language of her family (English) and that of her new country (Chinese), as well as the liminal spaces between youth and adulthood, safety and danger, humor and sorrow. This collection works by building and demolishing boundaries and binaries, sliding between their edges in movements that take us from the familiar to the strange and put us face-to-face with our assumptions and confusions. Through these complex and interwoven poems, we see how a self is never singular. Rather, it is made up of shifting—and sometimes colliding—parts. DeWoskin crosses back and forth, across languages and nations, between the divided parts in each of us, tracing overlaps and divergences. The limits and triumphs of translation, the slipperiness of relationships, and movements through land and language rise and fall together.

The poems in Two Menus offer insights into the layers of what it means to be human, to reconcile living as multiple selves. DeWoskin dives into the uncertain spaces, showing us how a life lived between walls is murky, strange, and immensely human. These poems ask us how to communicate across the boundaries that threaten to divide us, to measure and close the distance between who we are, were, and want to be. 
About the Author
---
Rachel DeWoskin is the author of five critically acclaimed novels: Banshee; Someday We Will Fly; Blind; Big Girl Small; and Repeat After Me; and the memoir Foreign Babes in Beijing, about the years she spent in Beijing as the unlikely star of a Chinese soap opera. DeWoskin has Hollywood development deals for Foreign Babes in Beijing and Banshee, and her essays, poems, reviews, and translations have appeared in The New Yorker, Vanity Fair, The Sunday Times Magazine of London, Conde Nast Traveler, The Asian Wall Street Journal, The Far Eastern Economic Review, Agni, Ploughshares, The New Delta Review, The New Orleans Review, Seneca Review, and numerous journals and anthologies. She is an Associate Professor of Practice in the Arts at the University of Chicago and an affiliated faculty member in Jewish and East Asian Studies.
 
Praise For…
---
"DeWoskin's sophisticated, clever poetry, vacillating between soft and sonic, manages to break into the parts of the human story that so often seem inaccessible, or at least indescribable."
— Newcity Lit
"These story-like poems, accessible to even the finickiest nonreaders of poetry, travel fast and span a lifetime of a woman as recounted by an accidental sex-symbol of the Chinese soap opera 'Foreign Babes in Beijing,' later turned author, wife, mother, and university professor. . . . Bitterness and Happiness is a restaurant in Beijing that offers two menus, one with a selection of excess, the second scarcity. We find those contradictions in this collection—pain/joy; heartbreak/fusion; language/silence—all here to read in this remarkable debut, a veritable smorgasbord to appeal in equal measure to both the poetry finicky and the poem gourmand. Bon appétit."

 
— Coachella Review
"DeWoskin's range includes fresh new visions of Chinese language and culture, which lead to new ways of understanding an American life; fresh new ways of using rhyme, happily melding sonnets and hip-hop; fresh, uncowed understandings of the historic past, for example Cleopatra: this first book is fresh in more than one sense of the word and a great, illuminating pleasure."
— Robert Pinsky, author of At the Foundling Hospital
"DeWoskin takes us from grief to romance in Two Menus, a debut of stunning clarity and formal dexterity. The subtleties of this book are balanced by the world each poem means to hold. DeWoskin is a poet of things, of the image, and of the narratives that attention to image allows. This is a beautiful book."
— Jericho Brown, author of The Tradition
"'The restaurant in Beijing called Bitterness / and Happiness has two menus,' recalls the insatiable speaker of this bountiful debut. Combining a novelist's narrative command with a poet's faith in the mystical felicities of rhyme, DeWoskin chronicles a life lived in voracious pursuit of all aspects of earthly experience. Whether rock climbing in China, river rafting in California, nursing her child, grieving another's child, visiting a family member in prison, or a dying friend in the hospital, she savors the living pith of each passing moment, and transmutes it into nourishing song. 'Here's how / we stay human even torched by sorrow,' she writes, singing down mortal dread. 'Spackled, rageful, wracked, we sparkle.'"
— Suzanne Buffam, author of A Pillow Book
"Smart, fierce and formally brilliant, the poems in Two Menus are wonderfully energetic and alive. Spinning between love and loss, childhood and womanhood, Chinese and English, DeWoskin creates a blaze of language that stuns with precision, wisdom and joy."
— Kirun Kapur, author of Visiting Indira Gandhi's Palmist
"DeWoskin's spectacular debut Two Menus offers us a lyrical banquet of tempting contradiction. In the title poem, we learn of "[t]he restaurant in Beijing called Bitterness / and Happiness", which has "two menus: the first of excess, / second, scarcity." Through DeWoskin's own uncanny language, both larger-than-life and daringly precise, we read to rediscover the boundaries that both divide and join our worlds: us/them, love/disgust, safety/danger, sanity/madness, language/silence. How can one life be expected to take in all that there is before us? How can it all make sense? And yet, with lucid description, and with abiding love and wit, each poem in this audacious book asks for more—even when it hurts."
— Frederick Speers, author of So Far Afield